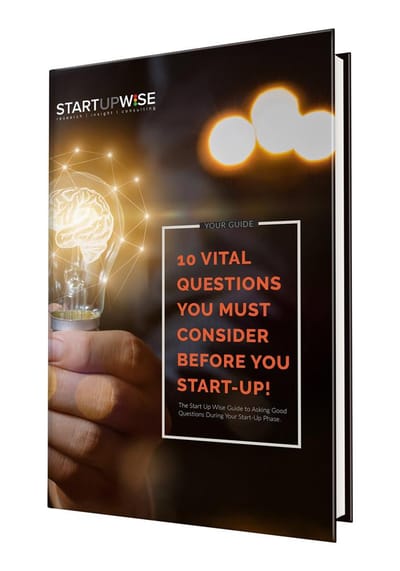 This 24-page guide condenses decades of experience in the start-up and commercialization industry, helping founders starting new business avoid 'Founders Regret' – by thinking through 10 Vital Questions you need to address early in your start-up journey.
What's in the 10 Vital Questions Start Up Wise Guide?
The
10 Vital Questions
guide contains nuggets of wisdom and practical knowledge distilled from Richard Milne's experience helping hundreds, possibly thousands, of start-up founders. It aims to help founders with a business idea, to start their business successfully and become profitable long-term, get things done in the right order, and avoid mistakes he has witnessed many times.
By breaking down the start-up development process into 10 steps, guided by simple questions, he gives the reader an easy to follow understanding of issues such as concept validation, viability assessment, intellectual property, product development and design, manufacturing, branding, packaging and digital development, and securing capital funding.
CHAPTER LIST
How Do I Know If My Idea Is Original?
How Can I Define Exactly Who My Target Market Is?
How Do I Know Exactly What My Customer Wants And How Much They Are Willing To Pay?
What Will My Development Costs Be? How Much Do I Need To Raise?
Which Business Model Would Best Suit My Start-Up?
Do I Have Any Intellectual Property Rights?
What Process Do I Use To Develop The Concept?
What Process Do I Use To Develop My Brand?
What Are My Options For Raising Capital?
What Is The Best Legal Structure For My Business?